If you're looking to get a copy of Adobe InDesign for Mac, and wondering how and where to download it, this article covers everything you need to know. Also, we check if you can get InDesign for free.
What is Adobe InDesign?
While you are here looking for ways to get the software, we assume you already know what it is. But if that's not the case, then here's a quick rundown of what the software has to offer. InDesign is Adobe's design software for magazine and other publication style layouts. You can put together great looking brochures, newsletters, posters and of course longer format magazines, all with powerful tools to make everything look cool and professional. It comes with plenty of instructions to get you up and running, plus 100GB of online storage for your creations.
Can I get InDesign for free?
Adobe offers a 7-day free trial that allows you to test the package to see if it's what you're looking for. And it gives you access to the full version, not a feature-limited one, so it's worth giving it a go even if you intend to buy the software later.
To get the free trial, go to the InDesign page on the Adobe site (here's the UK page) and select Free Trial. You'll need to create or sign in to an Adobe account to use the software, but it's easy to do once you're at checkout.
How much does InDesign cost?
If you want continued use of the full version of the software, you'll need to sign up for one of Adobe's various subscription levels. Gone are the days when you could get a boxed copy of software and have it for years; now Adobe insists on a monthly fee. If this sounds a little scary, you can be reassured to hear that the software gets regular updates, and any new features are immediately added to your version of InDesign. That's the good part about the subscription method.
At the time of writing, the standalone cost for InDesign is $20.99/£19.97 per month if you sign up for a one-year subscription. (That's $251.88/£239.64 in total.) If you're willing to pay up front for a whole year, then it costs less: $239.88/£238.42. There is also the option of having a rolling monthly subscription, where you can cancel at any time, but it costs more: $ 31.49 / £ 30.34 per month.
Alternatively, if you want to use other Adobe products alongside InDesign, then a Creative Cloud subscription (here's the UK page) offers access to a wide range of Adobe software, including Photoshop, Illustrator, Premiere Pro and Acrobat Pro. Obviously, the price is a bit higher for this comprehensive package, with current costs coming in at $54.99/£51.98 (annual, paid monthly), $599.88/£596.33 (annual, paid up front) or $82.49/£78.98 (monthly , cancel at any time).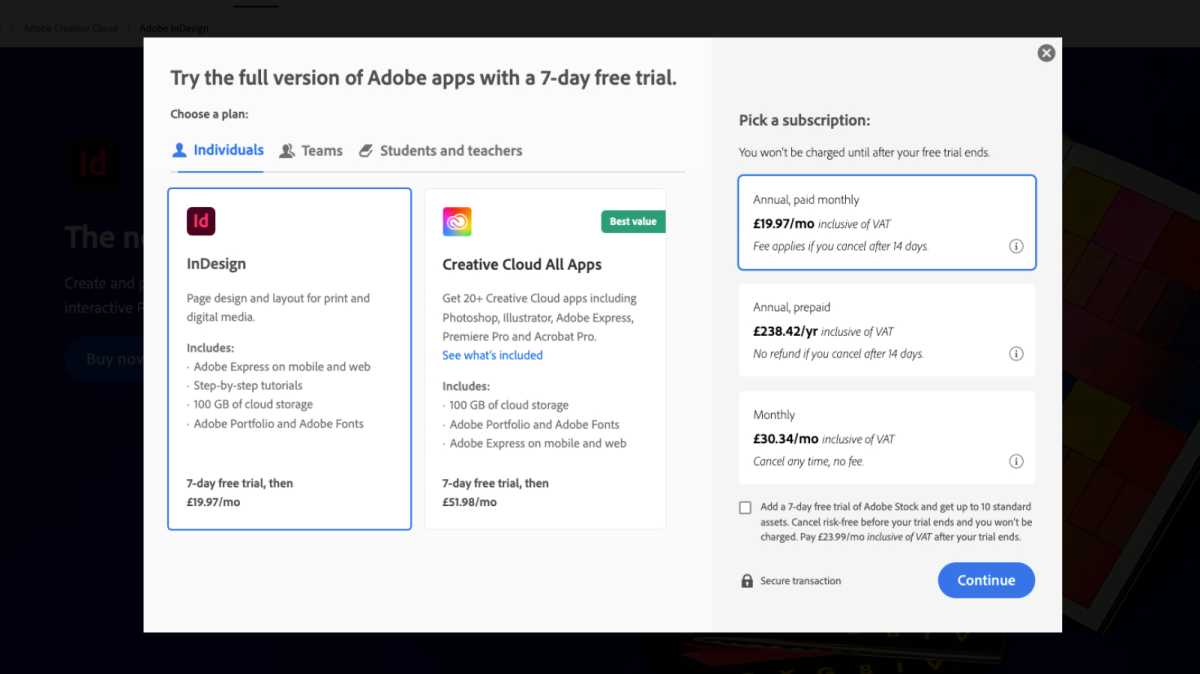 Adobe
Is there a student discount for InDesign?
Yes. The Student and Teacher subscription offers a substantial discount on normal prices. You can't get a subscription just for InDesign, but instead Adobe has removed the price at the Creative Cloud level so it's actually cheaper than paying for the individual software. With the discount, you can get Creative Cloud (with over 20 software titles, including InDesign and Photoshop) for $19.99/£16.24 (annually, paid monthly) or $239.88/£196.30 (annually, paid front).
Where can I buy InDesign?
You can purchase and download InDesign directly from Adobe. (Here's the UK page.) You can also try Adobe's page on Amazon, although at the time of writing the prices seem to be the same.
Is there a good alternative to InDesign?
If you're not desperate enough to pledge your trust in Adobe, then there are some decent alternatives that can help you create publications on your Mac. Perhaps our favorite comes from Affinity, which makes the best alternative to Photoshop Affinity Photo 2. Its rival to InDesign comes in the form of Affinity Publisher 2, which has a wide variety of tools to help you create designs that real pop. Best of all is the price, which is amazing for the powerful software you get.
Affinity Publisher 2 will set you back $69.99/£69.99, which is a one-off payment with no subscription required. The excellent iPad version is also available for $19.99 / £19.99 with the same lack of strings attached.
The best value remains the Universal license, which includes all three Affinity products–Designer 2, Photo 2 and Publisher 2–on all platforms (Mac, iPad and Windows), for $169.99/£ 169.99 with no extra charges.
Other solid options include VivaDesigner, QuarkXpress and Swift Publisher.