We all know that iPhones and water are a bad combination, but sometimes a handset meets a giant splash of water, a swimming pool, a toilet bowl (don't ask), or other wet environment. Most newer iPhones are water and dust resistant to the IP68 standard, but they are not waterproof. If moisture invades the speaker grill or the charging port, it can cause extensive damage.
Aside from letting your iPhone dry out, piling on silica packets, or praying to the phone goddess, I recently discovered a Siri shortcut called Water Eject that might be your best bet for removing of water from your iPhone. This shortcut requires the Shortcuts app, which comes with all current iPhones and is compatible with any iPhone running iOS 12 or later. Water Eject is not included as a default shortcut, but you can easily get it from the Shortcuts Gallery website.
To get started, navigate to the Shortcuts app on your iPhone. If you don't have the Shortcuts app, download it from the App Store. Then, use your iPhone's browser to navigate to the ShortcutsGallery.com Water Eject page. From there, you can add the shortcut to your collection by tapping on Take a Shortcut and Add Shortcut button. Once installed, the Shortcuts app will launch, and the shortcut icon will appear at the top of the All Shortcuts list.
To use the new shortcut, tap the Water Eject icon and then the Start of Water Ejection button. You will hear a light humming noise for a few seconds as the vibration expels the water from your phone. You can repeat the process as needed. If there is water on your phone, vibration and low-frequency sound will eject it from the speaker and Lightning port similar to the Water Lock feature on the Apple Watch.
If all the tapping and swiping makes you tired, don't worry. You can use the Hey Siri voice command "Water Eject" to start the party. You can also use the shortcut by placing it on your Home screen: In the Shortcuts app, tap the shortcut's three-dot icon, then tap the down arrow on the shortcut's name at the top of the screen, and select . Add to Home Screen from the pop-up menu.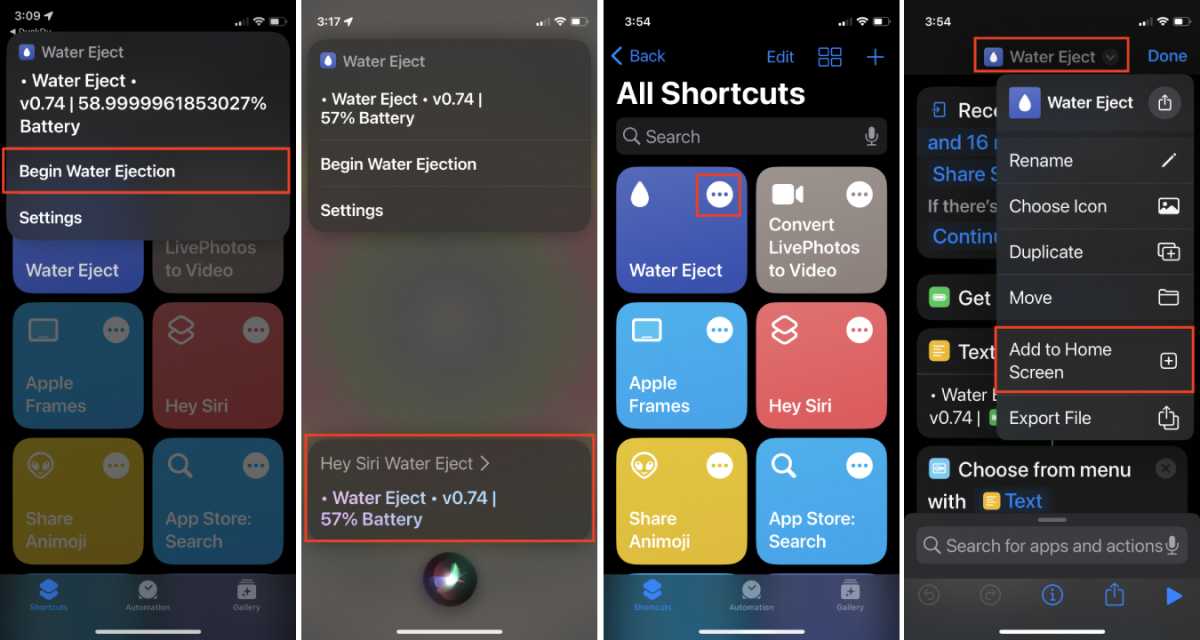 Foundry
Today I Learned is a Macworld column that highlights lesser-known but useful tips and tricks for Apple users. If you have ideas for future columns, send an email to michael_simon@idg.com.